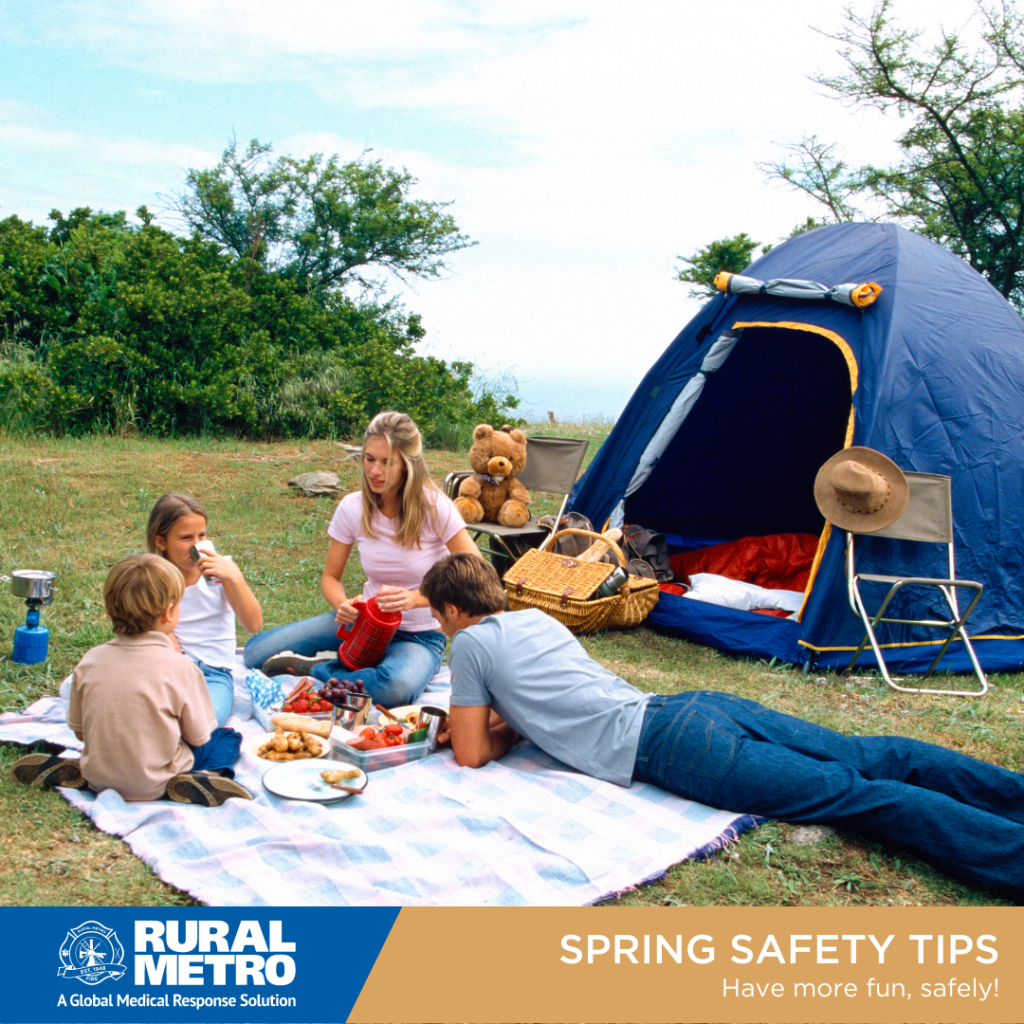 Safety tips for grilling, swimming, and outdoor activities this Spring
Spring is here! It's time to come out of hibernation and enjoy barbecues and pool parties under the sun. But with all the spring fun, it is important to take precautions to keep you and your loved ones safe this season. From keeping an eye on children (and even adults) in the water to food safety at your cookout, these safety tips can help prevent accidents and ensure a safe and enjoyable spring.
Grilling Safety Tips
Is anything more tempting than a barbecue? While lots of fun, Grilling comes with potential risks if not handled carefully. Before lighting your grill, ensure it is placed in a well-ventilated area far from combustibles including trees, low branches, deck railings, and plants. Keep children and pets away from the grill area – serious burns can happen when children interfere with cooking equipment. If your grill uses propane or natural gas, check all hoses and connections for leaks or damage. Ensure your meal is not just tasty but safe by using a meat thermometer to confirm food has reached proper internal temperature before serving. Last, but certainly not least, have a fire extinguisher nearby in case the flames get out of control.
Pool Safety Tips
Pool parties may be a great way to cool down but are also among the leading causes of injuries if precautions are not taken. First, ensure that the fencing, gates, and latches around your pool are maintained, secure and up to local safety codes. Children, even those not residing in the households with pools, have fallen into pools and drowned. When using the pool at parties, designate one person to supervise children and the pool overall. Never leave children alone in the water and avoid swimming alone. Have rescue equipment nearby and be sure a sober adult is present who knows CPR or who can call 911 in an emergency.
Outdoor Activities Safety Tips
Spring is also the season for outdoor adventures, like hiking, biking, and camping. However, without appropriate planning and precautions, such activities can become hazardous. Before leaving on an outdoor adventure, especially in remote areas or the backcountry, tell someone where you are going and when you plan to be back. Stick to the plan so that if you become injured, Search and Rescue teams can more easily find you. When you return safely from your adventure, let that person know you've made it back safely.
When hiking, always stay on designated paths and keep hydrated. This is especially important if you are in a hot and dry environment. Also be sure that you have the correct fitness level for the activity you are doing. Hiking or any activity outdoors brings more risk, but especially those who are not physically capable enough for the activity. Avoid activities during the hottest parts of the day. Venture outside in the early morning when temperatures are cooler. Be sure you have the right gear for the activity, including safety gear. When biking, for example, wear protective gear such as helmets and padding, and check that your bike is in good working condition – especially the tires and brakes. When camping, set up your tent in a safe and level area. Keep food stored in bear-proof containers away from your campsite, or in bear-safe bins provided by the campsite. Always check the weather forecast before heading out and check them frequently, as conditions can change quickly, and always have a fully charged phone, backup batteries and a map to avoid getting lost. And be sure you have someone to alert the authorities if you do not return home as scheduled.
Spring is a time to enjoy the outdoors and make memories with your family and friends. However, it's important to remember that safety should always be a priority. Rural Metro Fire is committed to responding to all calls for Emergency Medical Services, but we would like you to avoid risk with these safety tips so you and your loved ones can enjoy all the springtime fun safely. To learn more safety tips for outdoor activities, please follow our social media for updates on free community CPR, Stop the Bleed and other safety classes hosted by Rural Metro near you.