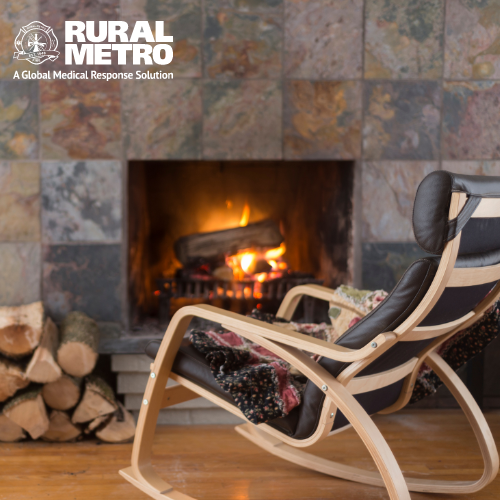 SEASONAL FIRE PREVENTION
When fall weather arrives, having a heating system that works as it should is of utmost importance for your comfort and your safety. Many times, homeowners "flip the switch" when the temperatures drop and hope for the heating system to work. Firefighters know that that is not always the best way to ensure a comfortable fall and winter heating season and that a little fire prevention preparation before you need to heat your home will ensure your safety.
Before turning on your heating system be sure to check the batteries in your fire and carbon monoxide detectors. It is recommended to change batteries when you change your clocks. However, the temperature may drop to the point you need to heat your home before you set your clocks back. In some states in Rural Metro Fire's service areas, the clocks never change – like in Arizona. It's a good idea to change the batteries on this vital fire protection equipment before turning on your heating system.
Having your heating equipment inspected by a licensed HVAC company is a key part of a good fire prevention plan. From electrical shorts to gas leaks, a licensed HVAC contractor can clean and inspect your heating equipment and ensure it's ready for the season and safe to operate. If you are foregoing the safety inspection, be sure to operate your heater for the first time during waking hours and be alert to anything out of the ordinary with your heating system's operation.
If you are using a fireplace, be sure that the chimney is clean and structurally sound before starting your first fire. According to the Chimney Safety Institute of America, chimney fires contribute to over 25,000 fires every year. One of the biggest contributing factors to chimney fires is a buildup of highly flammable creosote. Creosote is a byproduct of incomplete combustion, and it builds up in chimneys quickly. Structural issues with chimneys also contribute to many house fires and the only way to know for sure your chimney is safe is by an inspection.
Rural Metro Fire understands that even our best fire prevention strategies can not prevent every fire. Be sure your family is prepared to quickly and safely escape your home in the event of a fire by familiarizing yourself with how to create a fire escape plan. We encourage seasonal reviews of your family's fire escape plan to be prepared in the event of a fire.
If you live in an area serviced by Rural Metro Fire, we recommend purchasing a membership. Not only does membership protect you financially in the event of a fire, but membership provides other benefits like annual fire prevention safety inspections, emergency medical services, hazardous reptile removal and much more. A Rural Metro Fire Membership may also save you significantly on your homeowners insurance. Learn more about all the benefits of membership.