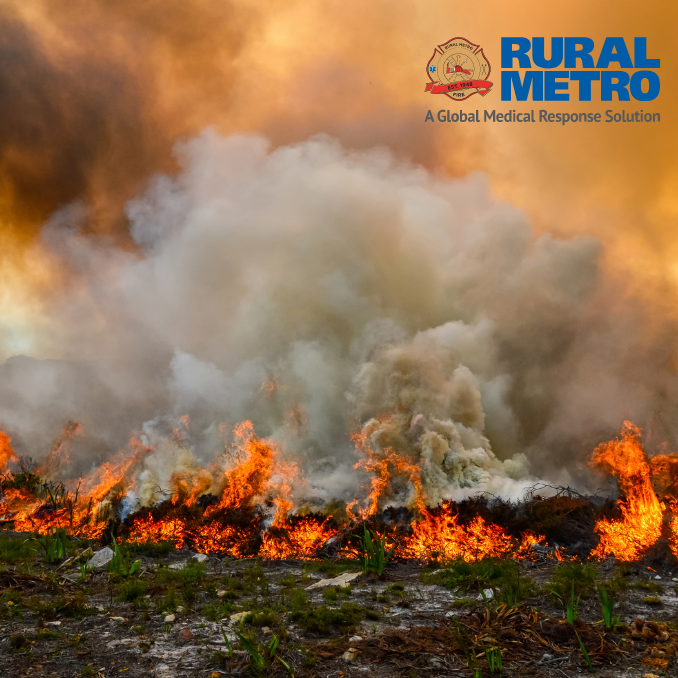 FIRE SEASON PREPARATION YEAR-ROUND
Fire seasons are growing longer, and the risk is increasing year over year as drought conditions are worsening in parts of the country serviced by Rural Metro Fire. There is no bad time to start preparations for fire season and we encourage everyone to be prepared year-round. Part of the many services we offer our members is fire prevention and mitigation. We believe that preparing for the possibility of a wildland fire is the best means of protecting your home should the unthinkable happen.
One of the best ways our members can protect their property is to create a defensible area around their homes. A defensible area is a buffer zone where organic materials, like wood piles, dead leaves, plants, bushes and trees, and all combustible materials are moved away from the structures on your property. According to the website, National Fire Protection Association (nfpa.org), keeping the area around your home "lean and green" can help mitigate the dangers a rouge ember poses to your property. The defensible area should extend to the next property line or 30 feet from structures. There are specific tips for everything from tree canopy trimming to suggested length of grass at the NFPA.
Fire prevention from wildfires also involves home hardening. Home hardening means using surfaces that don't catch fire and create embers – like concrete driveways, flagstone paths or rocks in lieu of grass. Hardening also involves removing debris, trees or combustibles (like propane tanks) from the area immediately around your home. Lastly, checking entrance points for embers, like missing roof tiles, is another way to harden your home further and make it more difficult for fire to spread.
During fire season, it's important to be ready to leave when local or state officials determine the fire danger is too high. Have a radio, with batteries, a "go-bag" with medications, important paperwork and other personal essentials, and a vehicle with a full tank of gas to evacuate. Leave your contact information and number of persons residing in the home posted to your front door and make sure the home is secure before you go. In order not to waste time when ordered to evacuate, be sure any keepsakes are ready to leave with your family. Fire prevention is a great way to ensure the security of your property and assist wildland firefighters, but fire prevention doesn't always work – being ready can keep your family safe.
For more evacuation planning tips and fire prevention and preparation advice, visit the Rural Metro Fire blog. To obtain more information on a Rural Metro Fire subscription and how it can enhance your fire prevention techniques contact us by phone at 800.624.5835, or visit our website to see if your address is in a Rural Metro Fire coverage area – https://ruralmetrofire.com