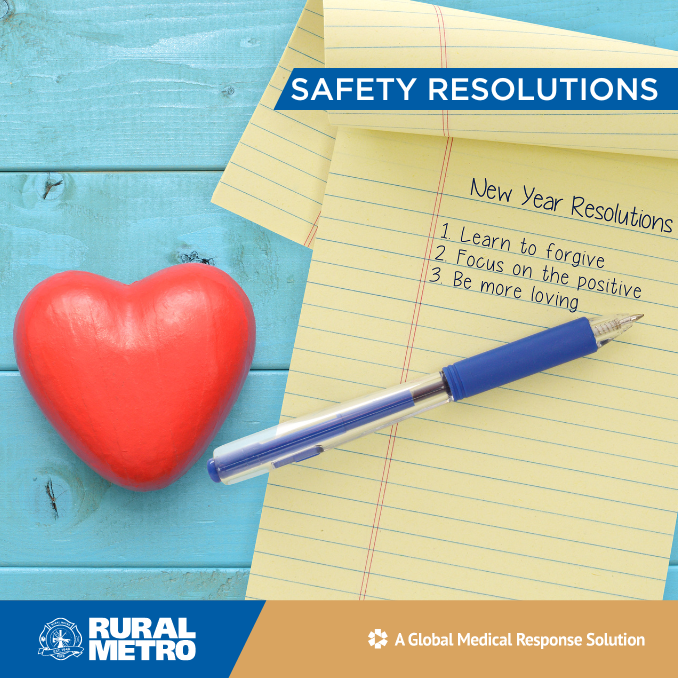 NEW YEAR'S RESOLUTION FOR A SAFER NEW YEAR
Rural Metro Fire provides fire suppression, fire prevention and medical aid to unincorporated communities in Arizona, Oregon and Tennessee. As experts in the field of safety, we have a few suggestions to add to your New Year's resolutions that will keep you and your family safer in the coming year.
Seventy percent of Rural Metro Fire's calls are for medical emergencies.
With that being said, there are some steps you can take to keep your family healthier and better prepared for medical emergencies in the new year.
First, learn CPR. Rural Metro Fire offers hands-only CPR classes at no cost in the communities we serve. CPR is so important because it maintains the circulation of oxygenated blood throughout the body, protects from cardiac muscle loss, and improves the survival rate of heart attack victims. The victim you encounter may be a stranger, neighbor or even a member of your own household. You can save a life, so resolve to learn hands-only CPR this year to improve the safety of your entire community.
In addition to hands-only CPR, you can take a "Stop the Bleed" class. Blood loss from accidents can quickly result in death. Learning to stop life-threatening bleeding can tremendously increase survivability from serious injuries.
Our next most common call is for home fires. Rural Metro Fire offers, at no cost to members, home fire prevention inspections. Resolve to schedule your inspection in the new year. There are steps you can take in the meantime to reduce fire hazards and increase your preparation in the event of a house fire.
Have fire extinguishers in good working order and make sure the whole family knows where they are located and how to use them. In the coming year, resolve to have a family fire drill and use our Fire Escape Plan to teach your household how to get out of the home safely in the event of a fire.
Make sure flammable substances in the kitchen and garage are far from heat sources and be sure an appropriate fire extinguisher is nearby. We'd like to point out that e-Vehicles with lithium-ion batteries can pose a unique fire hazard. Lithium batteries in these vehicles cause fires that burn much hotter than other, common house fires. Do NOT attempt to put out these fires with a commercial fire extinguisher. Evacuate your home and alert neighbors while you wait for the fire department to arrive. Be sure you have an operational fire detector in your garage if you have an e-vehicle and learn the warning signs of lithium-ion battery failure Lithium Battery Fires: How to Spot the Warning Signs.
If you live in an area prone to wildfire, take time in the new year to prep your property well in advance of fire season. We have a list of helpful Fire Prevention Tips for Wildland Fire FIRE SEASON PREPARATION YEAR-ROUND – Rural Metro Fire. Wildfire season has been starting earlier and lasting longer, so there is never a time too early to create a defensible area around your home against wildfire.
If you live in one of the unincorporated areas Rural Metro Fire serves, resolve to look into membership. Aside from the no out-of-pocket costs for members when they have a fire or medical emergency, members may even lower their homeowner's insurance premiums when they enroll. Learn more about membership benefits and get a quote here.
Lastly, be sure to follow our blog for even more safety tips and follow your local Rural Metro Fire station on Facebook for local community safety events. Your safety is our top priority in the new year and all year long. Learn more about our education and fire prevention services included, at no cost to members, online at RuralMetroFire.com.