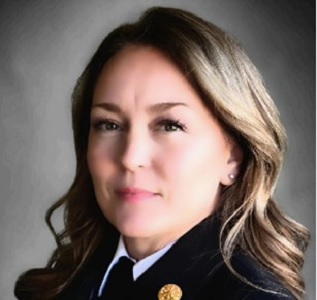 RURAL METRO FIRE APPOINTS FIRST FEMALE FIRE CHIEF IN 75-YEAR HISTORY
RURAL METRO FIRE APPOINTS FIRST FEMALE FIRE CHIEF IN 75-YEAR HISTORY
Melissa Hilpert has been Named Chief for Rural Metro Fire Yuma Operations
(YUMA, Ariz.) — Rural Metro Fire has appointed its first female fire chief in the 75-year history of the privatized fire service. Chief Melissa Hilpert will assume oversight and operation of all Rural Metro Fire's Yuma, Ariz., stations effective this month.
A 22-year veteran of Rural Metro, Hilpert is among a very small number of women in fire service. According to a 2018 report from the National Fire Protection Agency, just eight percent of firefighters in the U.S. are women; even fewer are in leadership positions.
"I feel a tremendous sense of accomplishment at being named Chief for our Yuma operations," said Hilpert." I am fortunate that with very few exceptions, I have always been supported by my peers and leadership to take my career in any direction I was willing to go. As a woman, I feel it's important to let other women know that there can only be a barrier to their success if they allow one."
Hilpert began her career with Rural Metro Fire as a reserve firefighter and EMT in 2000. In her tenure, she has also served as a certified paramedic firefighter, wildland firefighter, crew boss, rescue diver, EMS captain, EMS chief and assistant fire chief.
"We are incredibly pleased to see Melissa step into this next role with Rural Metro," said Brian Davis, National Fire Chief of Community Operations for Rural Metro Fire. "We are confident that she will bring many years of vision for the future to our Yuma operations."
Hilpert shared that as she steps into her role as Chief, she wants to bring a renewed focus on public service, community engagement and volunteerism to the department. "I am very passionate about keeping the service mindset. Our department exists to serve others. Sometimes when the shifts are long, and the work is particularly hard, we can lose focus of our mission, which is to put the needs of others ahead of our own. I want community members to be able to feel a personal connection with the people that work in this department."
###
About Rural Metro Fire Department
Rural Metro Fire is committed to providing fire protection and emergency services. Rural Metro Fire serves unincorporated communities around the nation, as well as commercial on-site industrial and AARF services. Our highly skilled firefighters, EMT's and paramedics strive to provide outstanding service on every call. Rural Metro Fire employs more than 460 people and answers 1.5 million calls for service, yearly. A subsidiary of American Medical Response, Rural Metro is headquartered in Phoenix, Arizona. For more information about Rural Metro Fire, visit www.ruralmetrofire.com.
Rural Metro Fire is part of the Global Medical Response family. Global Medical Response, Inc. is the industry-leading air, ground, specialty and residential fire services, and managed medical transportation organization. With more than 36,000 team members, GMR delivers compassionate, quality medical care, primarily in the areas of emergency and patient relocation services in the United States and around the world. For more information, visit www.globalmedicalresponse.com.
January 27, 2022
Contact: Nicole Michel
877.418.2980
[email protected]