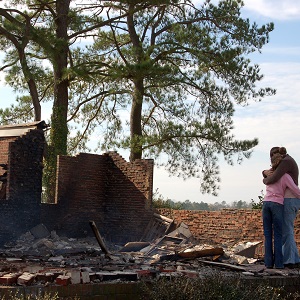 RURAL METRO FIRE LIST OF FIRE SAFETY TIPS
RURAL METRO FIRE LIST OF FIRE SAFETY TIPS
Rural Metro Fire shares a list of fire safety tips to learn how to keep your family safe and prepared.  You can learn to prevent a home fire, escape from a home fire and keep your family safe.
SMOKE DETECTORS
Install smoke detector/alarms in every bedroom, outside every sleeping area and on all levels of your home.  A kitchen smoke detector should be installed at least 10 feet from any cooking appliances to avoid false alarms. If you mount the smoke detector on a wall, it should be no more than 12" from the ceiling to the top of the alarm. It is also important that when one smoke alarm sounds, all of them sound at the same time. It is recommended that smoke alarm systems should be replaced every 8 to 10 years.
Some newer smoke detectors can be hardwired into your electrical system and have a battery backup. Almost every smoke detector uses a 9-volt battery. The National Fire Protection Association (NFPA) recommends that smoke detectors be tested monthly to make sure that they are working properly.  Although it is recommended to change the batteries in a smoke alarm at least once per year, Rural Metro Fire recommends that you change the batteries twice a year.  Using Daylight Savings time changes for changing your batteries is an easy calendar reminder.
Don't forget about carbon monoxide detectors as well if your home is heated with gas. Carbon Monoxide is a quiet killer, as you cannot detect it by smell. Make sure you have carbon monoxide detectors in your home. Some of the newer smoke alarms also have carbon monoxide alarms.  Consider replacing older smoke alarms with these newer versions.
HOME FIRE ESCAPE PLAN
It is important to have a comprehensive fire escape plan in place for your household and that everyone knows the plan for getting out of the house when a smoke alarm alerts.  Learn more about how to create a fire escape plan here.
KITCHEN FIRE SAFETY
Most kitchen fires start with a cooking incident.  Never leave the kitchen while something is on the stove.  Keep a pan lid nearby.  If a fire starts in a pan, cover it quickly with the lid to smother the fire.  Never pour water on a kitchen fire!  Learn more about how to prevent kitchen fires here.
It is also good to keep an ABC dry chemical fire extinguisher near your kitchen and away from the stove.
ELECTRICAL FIRE SAFETY
Electrical fires can occur both indoors and outdoors.  Although electricity makes everyone's lives easier, electricity has a great potential for fire-related hazards.
Some tips for keeping your family from having an electrical fire include not overloading your receptacle outlets by using more than one heat-producing appliance at a time.  Make sure that you have ground-fault circuit interrupters (GFCIs) installed and that they are working properly.  Make sure that you are using surge protectors correctly. Learn more about how to prevent electrical fires here.
For more information visit nfpa.org